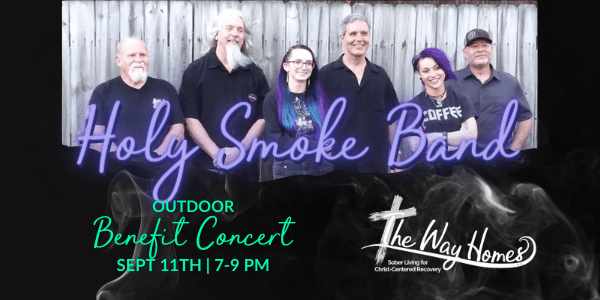 Outdoor Benefit Concert featuring Holy Smoke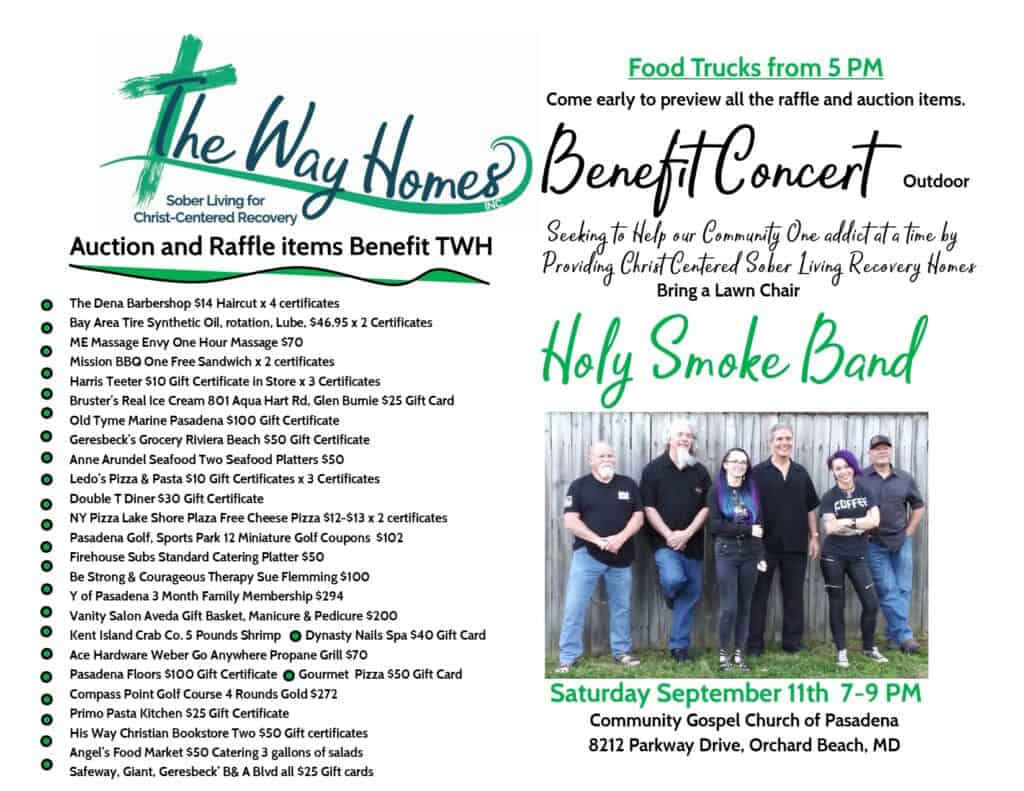 Seeking to Help our Community One addict at a time by Providing Christ-Centered Sober Living Recovery Homes
Saturday, September 11th, 7 – 9 pm
Outdoor Benefit Concert featuring
auction, raffle, food trucks, and music
from the band
Holy Smoke
Food trucks & Fellowship starting at 5 pm!
Bring a Lawn Chair
Community Gospel Church of Pasadena
8212 Parkway Drive, Orchard Beach, MD
Auction and Raffle items Benefit TWH
The Dena Barbershop $14 Haircut x 4 certificates
Bay Area Tire Synthetic Oil, rotation, Lube, $46.95 x 2 Certificates
Bay Area Computers $20 off Next Service or Repair
ME Massage Envy One Hour Massage $70
Mission BBQ One Free Sandwich x 2 certificates
Harris Teeter $10 Gift Certificate in Store x 3 Certificates
Bruster's Real Ice Cream 801 Aqua Hart Rd, Glen Burnie $25 Gift Card
Old Tyme Marine Pasadena $100 Gift Certificate
Geresbeck's Grocery Riviera Beach $50 Gift Certificate
Safeway Grocery $25 Gift Certificate
Anne Arundel Seafood Two Seafood Platters $50
Ledo's Pizza & Pasta $10 Gift Certificates x 3 Certificates
Double T Diner $30 Gift Certificate
NY Pizza Lake Shore Plaza Free Cheese Pizza $12-$13 x 2 certificates
Pasadena Golf, Sports Park 12 Miniature Golf Coupons $102
Firehouse Subs Standard Catering Platter $50
Be Strong & Courageous Therapy Sue Flemming $100
Y of Pasadena 3 Month Family Membership $294
Vanity Salon Aveda Gift Basket, Manicure & Pedicure $200
Kent Island Crab Co. 5 Pounds Shrimp
Ace Hardware Weber Go Anywhere Propane Grill $70
Geresbeck's Grocery B & A Blvd. $25 Gift Certificate
Pasadena Floors $100 Gift Certificate
Compass Point Golf Course 4 Rounds Gold $272
Primo Pasta Kitchen $25 Gift Certificate
His Way Christian Bookstore Two $50 Gift certificates
Angel's Food Market $50 Catering
Cuttnup Haircut $20
Giant Food Market $25 Gift Card
Gourmet Pizza $50 Gift Card
If you would like to place a bid on an item ahead of time email us at [email protected] and we will start the bidding at your bid amount.
If you can not attend our annual fundraiser and would like to help support Christ-Centered Recovery please donate here!
Thank you in advance! We can not do this without all of you!!