Spring 2019 has Sprung in All It's Beauty
Julie, a former resident
"Spring has come, and like the flowers bloom and multiply so have the ladies who reside at The Way Homes (TWH). I moved into The Way Homes in July of 2011. I was one of the very first ladies to move in when they opened their doors to a women's home. TWH provided me with a fresh start and allowed me to bloom into the person God intended me to be. Today I have bought my own home and manage a very large lumber company. My daughter is in nursing college and my son is in the Navy.
TWH now has two women's houses that provide a safe, drug-free environment for women who are seeking to live clean and sober. I love being a part of this ministry as the Women's Assistant Ministry Leader. I am forever grateful for The Way Homes to be able to share my experiences of strength, hope, and God's great love with the ladies who have chosen to die to their old way & be molded by our Creator to become a vessel God can use to help others."
---
Linda, Women's Ministry Leader
"Great changes have been implemented in the women's homes! Our goal for the women is to provide a safe, loving and encouraging home that will allow the women to grow in their recovery and their faith. As with any good endeavor, it is important to have a team of dedicated individuals that are committed to the goal. So, I have established a great team: Julie is our new Assistant Ministry Leader, Tina is one of our House Leaders and Cathy is our other House Leader. These women are all volunteers that love the women in their homes and are truly committed. Your continued prayers that they'll stand strong are appreciated. Rejoice!"
---
Pastor Bob, volunteer at The Way Homes
"When I retired from my job last year," states Bob, "I began looking for opportunities to serve the Lord. I remembered that a former assistant pastor at our church was actively involved in a ministry to recovering alcoholics and drug addicts called The Way Homes. The pastor, who was himself an addict before giving his life to Christ, spoke of the joy he experienced in helping others to recover. So I decided to contact TWH. They invited me to attend Prayer and Share, every Thursday 8-9:30 AM. Not knowing what to expect, what I found there amazed me! We began with songs of praise and worship, then residents shared their lives—telling how their recoveries were progressing. Next, a member of the group brought a message from God's Word and we prayed for each other. It was truly a blessing to see God work in their lives. It was obvious that they loved the Lord Jesus and cared for one another. Ever since that first encounter, I have been regularly attending and now have volunteered to schedule several area pastors to bring the devotion each week. I have helped with office projects too. It is a joy to see how Jesus Christ is mending broken lives at The Way Homes. To God be the glory!"
---
Larry, The Way Homes Overseer
"We strive to serve God in helping either alcoholic or drug addicted people. We offer a chance to grow spiritually and financially sound in small ways that will lead to bigger things if our residents want change. We encourage them to participate in recovery meetings and church events weekly. We find both are extremely helpful in elevating their lives from despair and hopelessness. We pray that although not all get it, someday they will come to the saving knowledge of Jesus Christ and a better way to live according to the Bible and grow personally."
---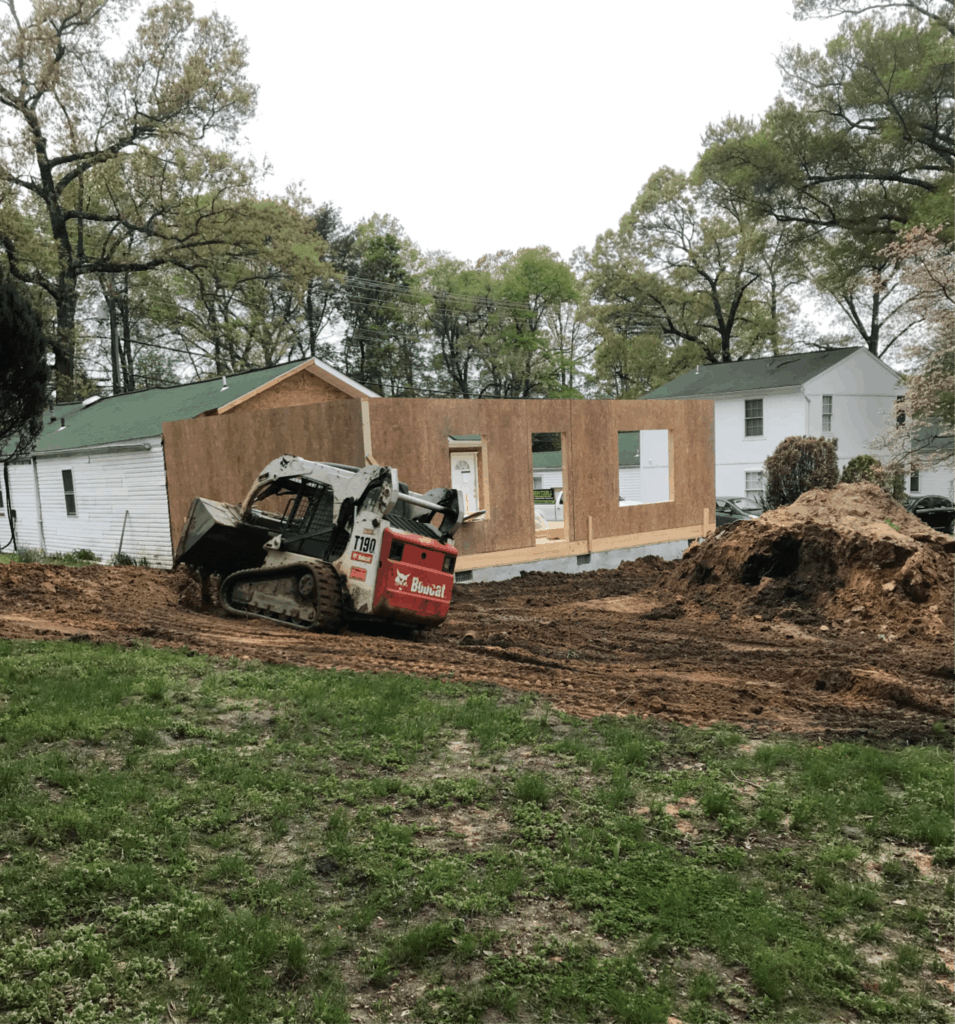 Community Center Addition to our 3600 Mountain property is underway! We have outgrown our current community center and thus the addition pictured to the left. During any week we have a women's 12 step-group on Mondays, Tuesday Before Supper AA 4-5 PM, Thursday Prayer and Share 8-9:30 AM, Thursday Ladies Bible Study 6:30-8 PM, Friday Big Book 7-8 PM. Residents can also meet family or friends there.
We thank the Lord in advance for the provision for this center that ministers not only to our own TWH residents but to the recovery community at large who are welcome to attend any of the events we host.

TWH founder, Greg Anderson says, "The Lord has been good to us and we thank all who help us on a regular basis. Special thanks to Octogenarian Mr. Harry Fox who continues to lay block for us on any project we are doing. He charges us as if he were back in the 1960s. Thank you, Mr. Fox! You have given of yourself generously. Proverbs 22:9a A generous man will himself be blessed."
We are a Christ-centered recovery home. We are a Christian ministry. We provide a healthy drug & alcohol-free environment for individuals who have committed to a 12-step program with Jesus Christ as their higher power. We provide fully furnished, private rooms (yes, no roommates!), IT-enabled, utilities included semi-private bath facilities and a wholesome Christian community of addicts and alcoholics who are in recovery. Our Lord and Savior works through us to help up to 37 people at a time recover from their hurts, habits, hang-ups, and addictions. Our residents and team actively participate in meetings where we share what is going on in our lives and rejoice in our victories. If you are not already involved, we welcome and depend on your participation and support.
Thank you and God bless you all! Come and visit anytime and find out first hand, how you can partner with us.